I decided to try to crochet the faces of the Scooby Gang inside the window of The Mystery Machine late one night. My success in shaping the lettering and waves gave me the confidence to try for actual faces. But being the middle of the night I was limited to my stash of random balls of old acrylic yarns.
By doubling the size of the image of the Scooby Gang I could get greater detail for my color changes. I found the perfect tones of brown, purple, pink, and peach to go with the orange, yellow, and green already had, and was excited to see the faces come together. But half way through Velma's face I discovered the ancient ball of peach yarn had cuts throughout! I did not have any other yarn to match, and did not want to pull out the work I had already done, so I ended up having to carefully start and stop new lengths of yarn as I worked leaving lots of extra ends. This is the deep dark secret of my great work of art, it was cobbled together with scraps! I just hope the older yarns will not fall apart before my son is done enjoying his afghan.
After I completed all of the crochet work, I spent the next week alternating embroidering black outlines around the faces and weaving in those hundreds of loose yarn ends. I finished the final stitches on August 3rd, just in time to walk out the door and submit The Mystery Machine and a couple other entries to my local County Fair. I had received two blue ribbons the year before and had high hopes for my original afghan designs when most other entries were from patterns.  I have to admit I was rather disappointed when The Mystery Machine got a 2nd place ribbon.
The judges only comment was "some edges don't lie flat." My first thought was, I would like to see them make an afghan actually shaped like a van with roof racks and bumpers! Since my other more traditional sampler afghan did get a 1st place ribbon, I decided the judges must have had little imagination. A friend pointed out that they were clearly only looking at technicality and not artistry.
I almost let their critique discourage me from sending The Mystery Machine to the CGOA Design Competition , but now I should probably thank them. I had not had time to block it before the fair, and their comment inspired me to pull out the original edging and replace it. This time I used 2 strands of yarn and a larger hook, so I was sure the stitches were not too tight around the corners, and  took the time to block the afghan.
Finishing that edge in the heat of summer was a bit hard to do. I procrastinated right up until I finished it and blocked it just in time to ship it to Doris Chan on August 29th, two days before the deadline for entries. I drove all over town trying to find the cheapest means of shipping my package across the country, but I definitely paid for my procrastination. I figured if one of my entries at least got 3rd place, it would at least pay for the shipping and entry fees, and if not it would teach me not to procrastinate. Then I had to wait 3 weeks until the CGOA conference and competition.
When I got the email from the CGOA announcing the winners of their annual design competition and saw my name listed, not once but twice, I was ecstatic.  Third place in Small Wonders for my Vegetable Garden and  first place in Afghans! I could not believe it. When one of my Ravelry friends posted that The Mystery Machine also won the CLF sponsored People's Choice Award, I was completely speechless. I am still in shock to be honored among so much talent.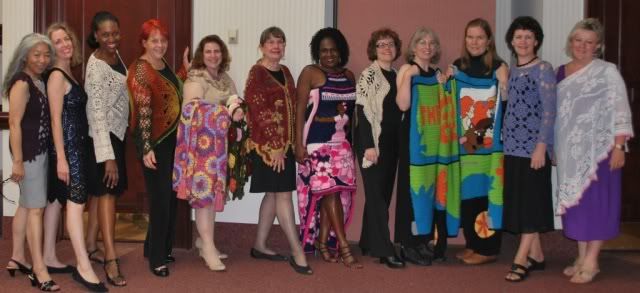 After ten years dreaming of getting my crochet designs published, having my work recognized at a national event finally gave me the confidence to submit a few design ideas for publication. Just this week I found out that one of my submissions was accepted to a new series of crochet books coming out next year! What a long journey from yarn bomb concept to People's Choice, but I wanted to share with all of you CLFers who can appreciate the highs and lows of creating our visions in crochet.
Post Script from Fearless Leader:
I cannot say how excited I was to see that one of the CLF won our Prize Money for People's Choice at the CGOA design competition! I'm so glad it was not only a CLF member, but Laurinda who is only a few hours away from my island retreat!